I'm going to be honest…fundraising isn't the most
fun
thing to do on the planet. It's a lot of work. You have to constantly be thinking up new, exciting ways for people to jump on your passion train…when they may not be passionate about the same things you are passionate about. But most of the people I know…are passionate about their families. So when the people close to us see our videos and read our blog posts, they have been jumping on our train, because family is important to them and they want to see ours grow too.
We have fallen to the floor on several occasions when confronted with the generosity of those we love and those we don't even KNOW. Last week we were taking some time to rest at my parents house in Michigan after a LLOOOONNNGGG summer of paperwork, camp and fundraising efforts. Our fundraising page had a lot of action the first few weeks and it was so fun to see the little green bar move to the right as the funds came rolling in….but then it tapered off for awhile and we had to rely on what God was doing. During our week of rest in Michigan we prayed over our fundraising efforts and asked God what was next. He answered our prayers sooner than we thought.
We have had several friends, that work in ministry as we do, give amounts we were humbled by. I am still struggling to write thank you notes, not having the words for the gratitude we feel.
We have had people that don't even know us send us love and funds…one of the ladies in my Grandmas bible study in Florida sent us a check. She was just touched by our story…
I will admit, I cry every time we get a donation…every time. I am an emotional person and this experience has only heightened my emotions.
I was a total wreck the day our 4 year old Goddaughter Lennon gave us her jar of coins and said…"this is for your baby." So precious. Just the most precious.
It's in moments like these, God gives us the fortitude to keep fundraising, even though the legwork is not the most fun….the outcomes are so beautiful, humbling, and awe-inspiring that I know God's hand is in this.
So here's the update on our fundraising…We are nearly halfway to our goal of 10,000 on our fundraising site, and some exciting news, we have been chosen as the next family to be featured on Give1Save1! A blog that will put our story in front of a lot more faces and encourage people to give $1 to help our cause. This is where we need your help once again. Our family will be featured NEXT WEEK! September 2
nd
-7
th
We need to get that site in front of as many people as we can! So please share
Give1save1
on your facebook/twitter/blogs starting Monday! Encourage your friends and family to give next week….even if they can only give 1$. Every dollar gets us closer to our goal. Feel free to post us everyday next week if you want!
We will be posting a lot next week, here and on facebook so you can track our progress.
Thank you to everyone for your constant support and love. We have to pick our jaws up off the floor with every gift and we are truly truly blessed.
Much love and gratitude,
Jen and Tony
Use this one starting Monday!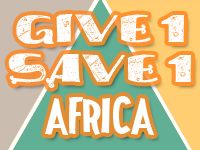 Use this one all the time!!!!